How to move Thunderbird profile to Office 365 in Bulk Accurately?
admin
| email backup email converter Office 365 software technology | 4
minutes read
| Modified on: 11-11-2019
Summary: Are you looking for a reliable tool to know how to move Thunderbird profile to Office 365 in bulk? If your answer is yes then you are on right place. Read this blog till end to get instant solution i.e. Thunderbird to Office 365 Converter or you can download the same from the below given link.
Nowadays, the way of communication is completely changes and converges towards emailing. All the organizations and businesses uses email clients to share and manages their personal info. There are various service providers available which offer emailing service. Thunderbird is one of the world famous email service provider which provide free service. Besides emailing service, Thunderbird also facilitate user to manage personal database such as contacts, calendar, journal, task etc. But recently after suspension of its manufacturing many users start searching for another platform to save their Thunderbird database. It is not an easy task to find a best suitable match to your problem, but don't worry we are here to solve your problem. We provide you pocket friendly solution which perfectly fits you or doesn't make hole in your pockets.
Why is it Necessary to Move Thunderbird Profile to Office 365?
There are various reason available behind the conversion of Thunderbird profile to Office 365. We try to explain several popular reasons in this blog.
After suspension of Mozilla Thunderbird it become very costly to manage database in Thunderbird account. It requires proper engineering service time to time which is not affordable by all the users. And also there are some other email platform which give same service with pocket friendly rates.
Office 365 is a cloud based email application which comes with complete package. The Microsoft developed app provide more storage than Office 365. Mailbox of Office 365 can be accessible from anywhere and anytime which is not in the case of Thunderbird.
Office 365 provide different packages according to Organization size and requirement. After buying any of the packages, you got access to Word, Excel, Skype, Exchange Server etc.
Move Thunderbird Profile to Office 365 Professionally
Thunderbird to Office 365 Converter is a professional third a party software which provide complete solution of how to move Thunderbird profile to Office 365 accurately. The software can be used by both technical and non-technical background user as it has too simple working. The tool has user friendly GUI (Graphical User Interface) and non-complex layout. Let's understand the software deeply by collecting some more information about it.
Follow these steps to move Thunderbird emails to Office 365 effortlessly
Step 1: Download Thunderbird to Office 365 Converter in your system.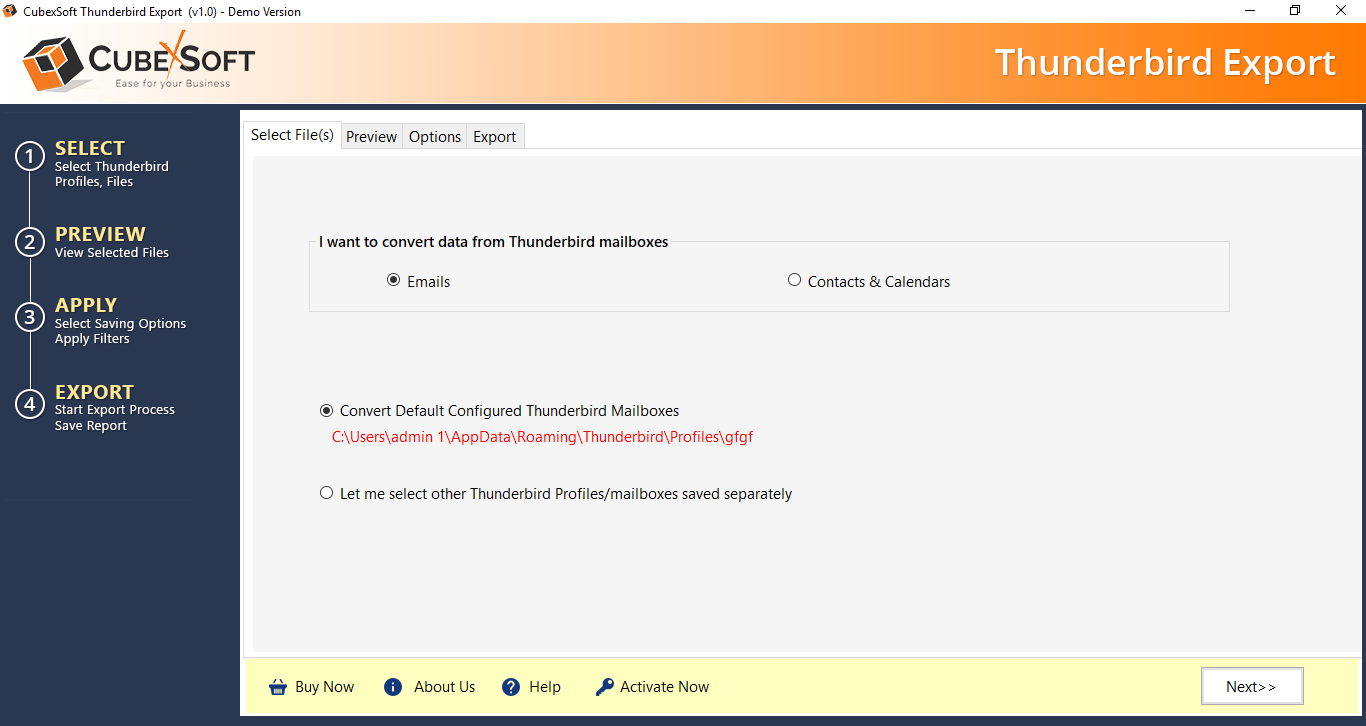 Step 2: Now click on Add Files or Add folder option to load your Thunderbird files in the software.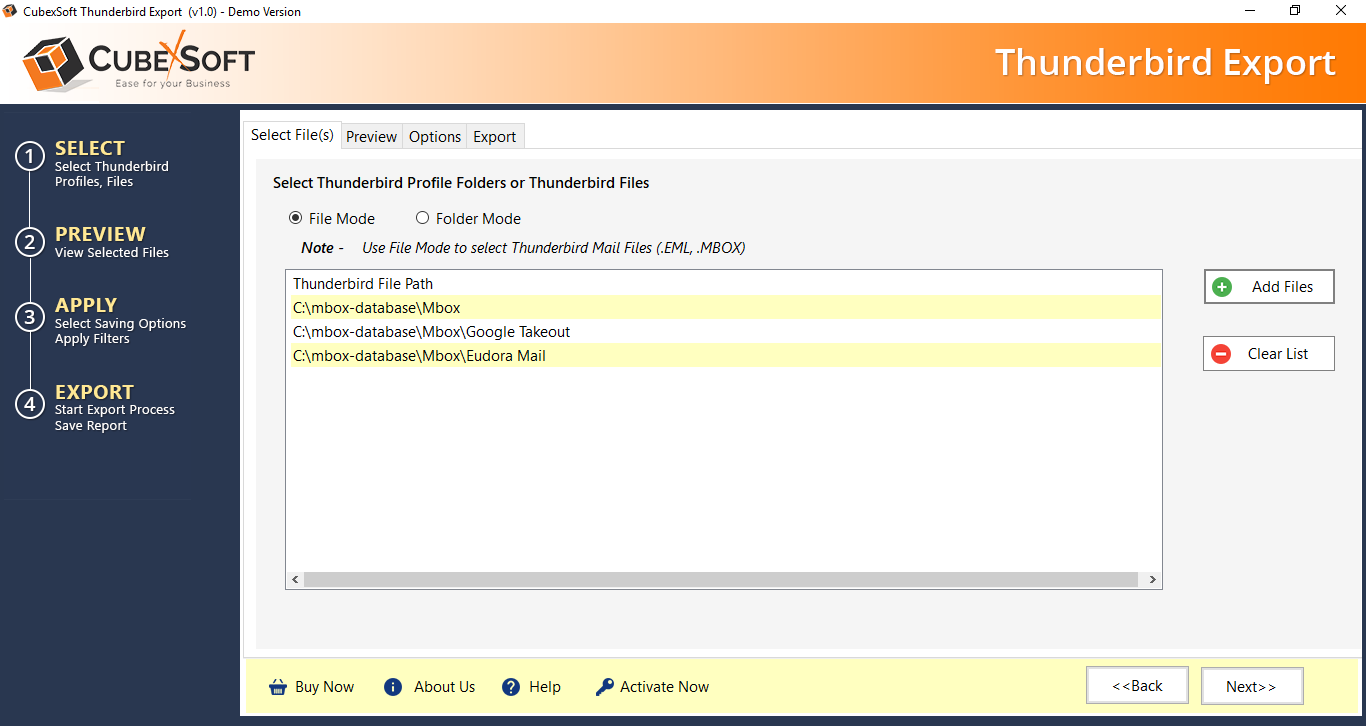 Step 3: Next the software start loading Thunderbird mailbox and show preview of the whole Thunderbird mailbox.
Step 4: Choose Office 365 as output option to move your Thunderbird emails to Office 365 account.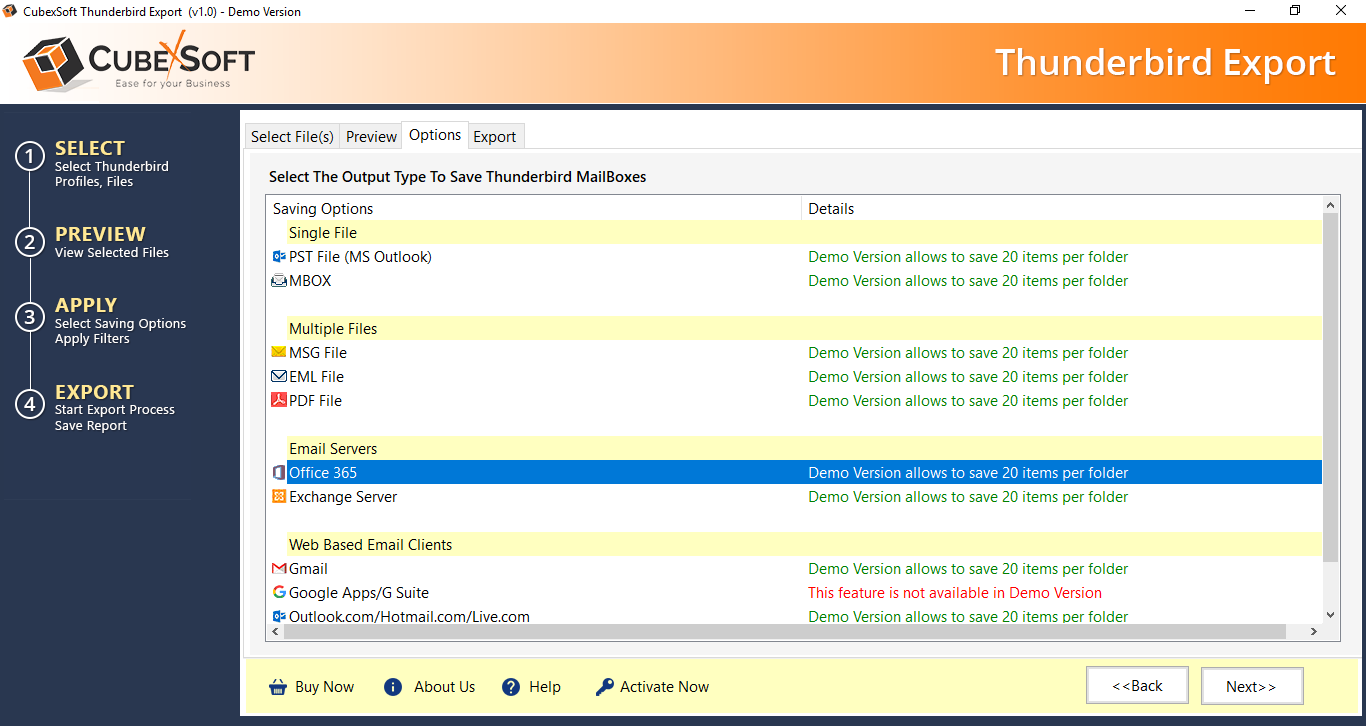 Step 5: Apply advance filters offered by the software by clicking on Set filters.
Step 6: Next fill Office 365 login details i.e. Email Address and Password.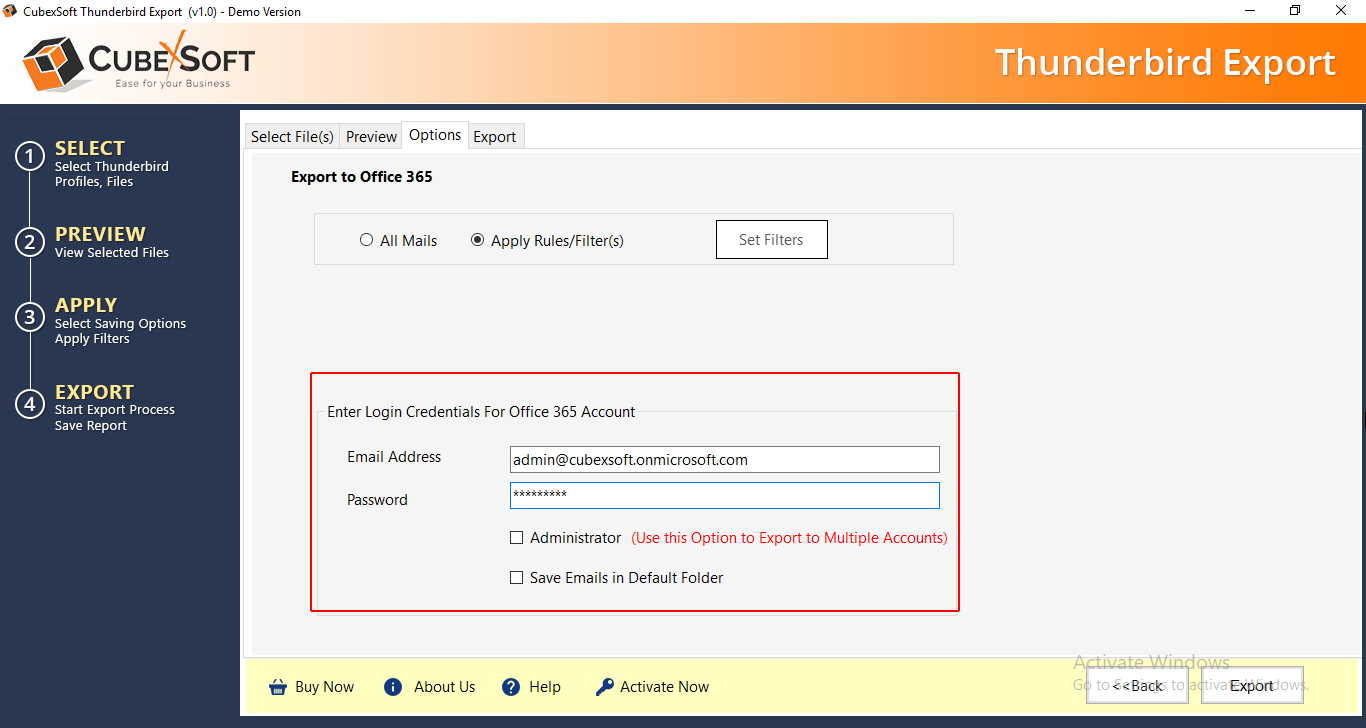 Step 7: Now click on Export button which is available at the rightward corner.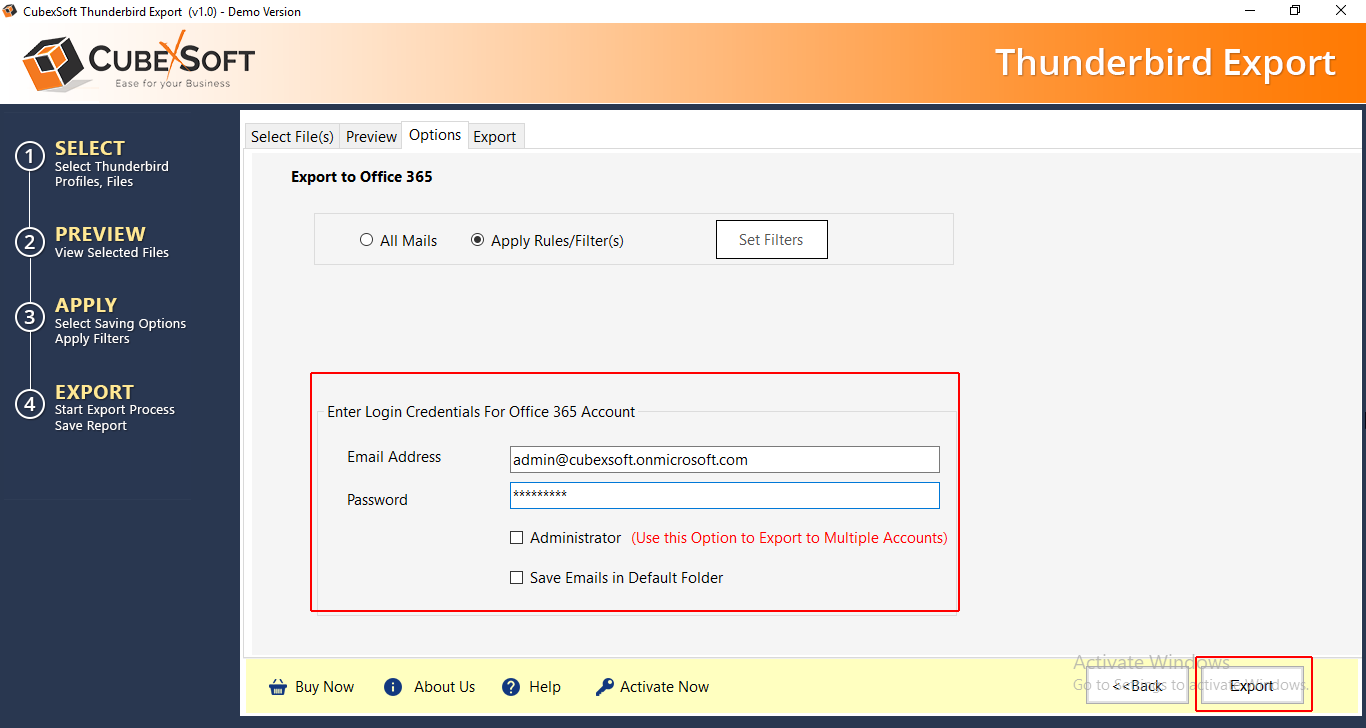 Step 8: After that the software Authenticate your Office 365 account details.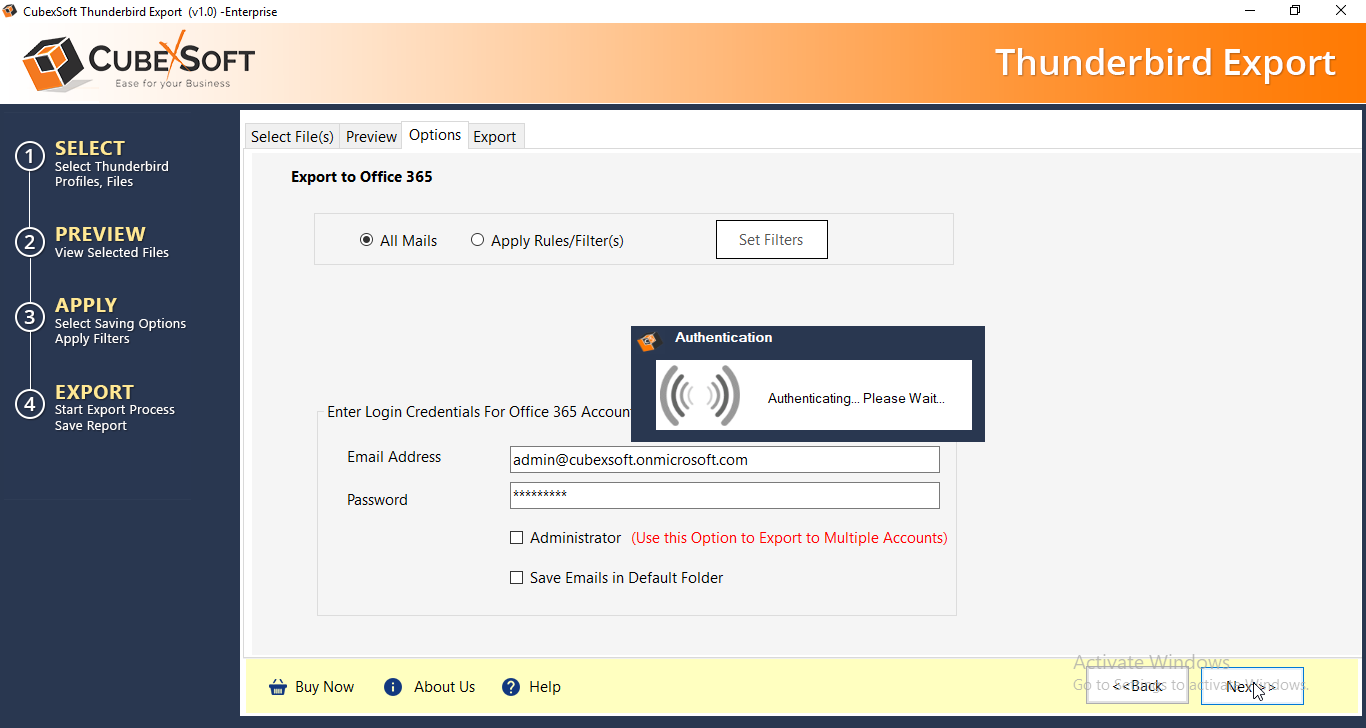 Step 9: Once the Authentication is completed the software start the conversion process which will be finished in few minutes and shows live conversion status.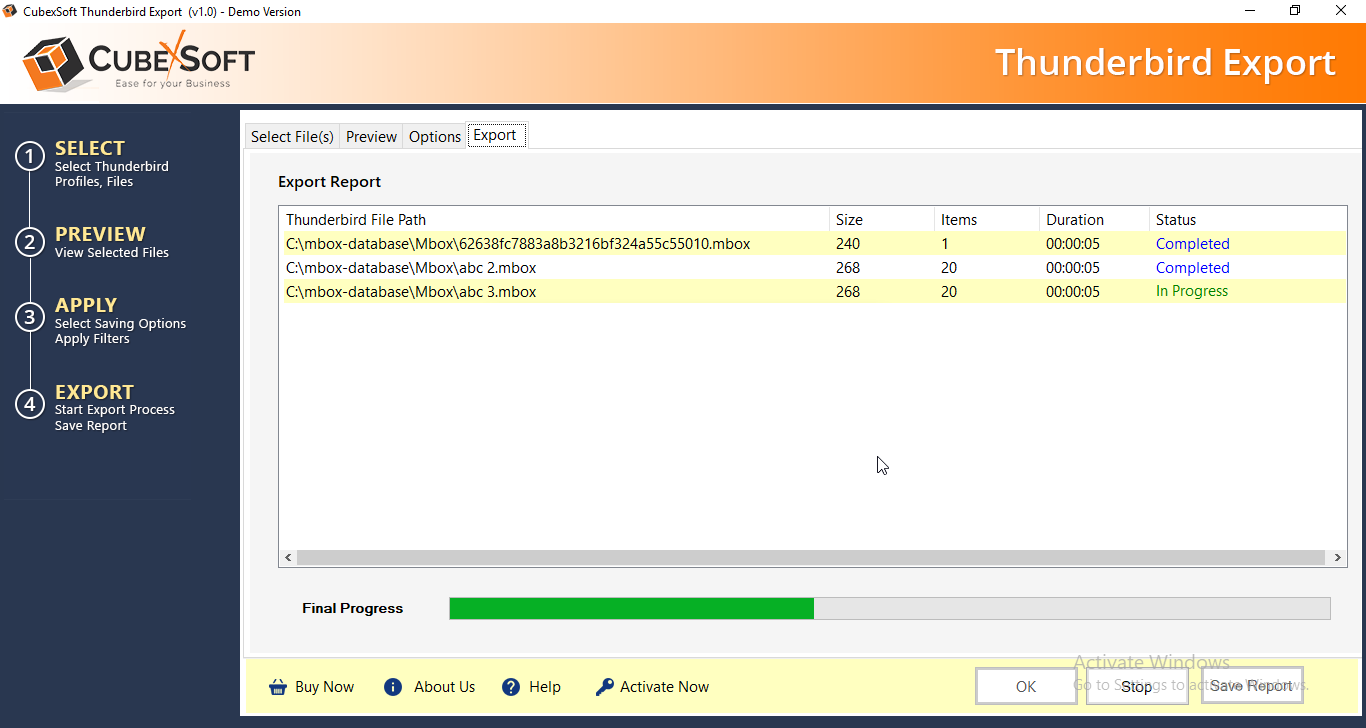 Step 10: After completion of backup process, a dialogue box open with a message "Conversion completed", click on Ok to move forward.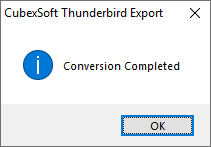 Step 11: Finally click on Save report to save the summary of whole backup in CSV format for analysing purpose.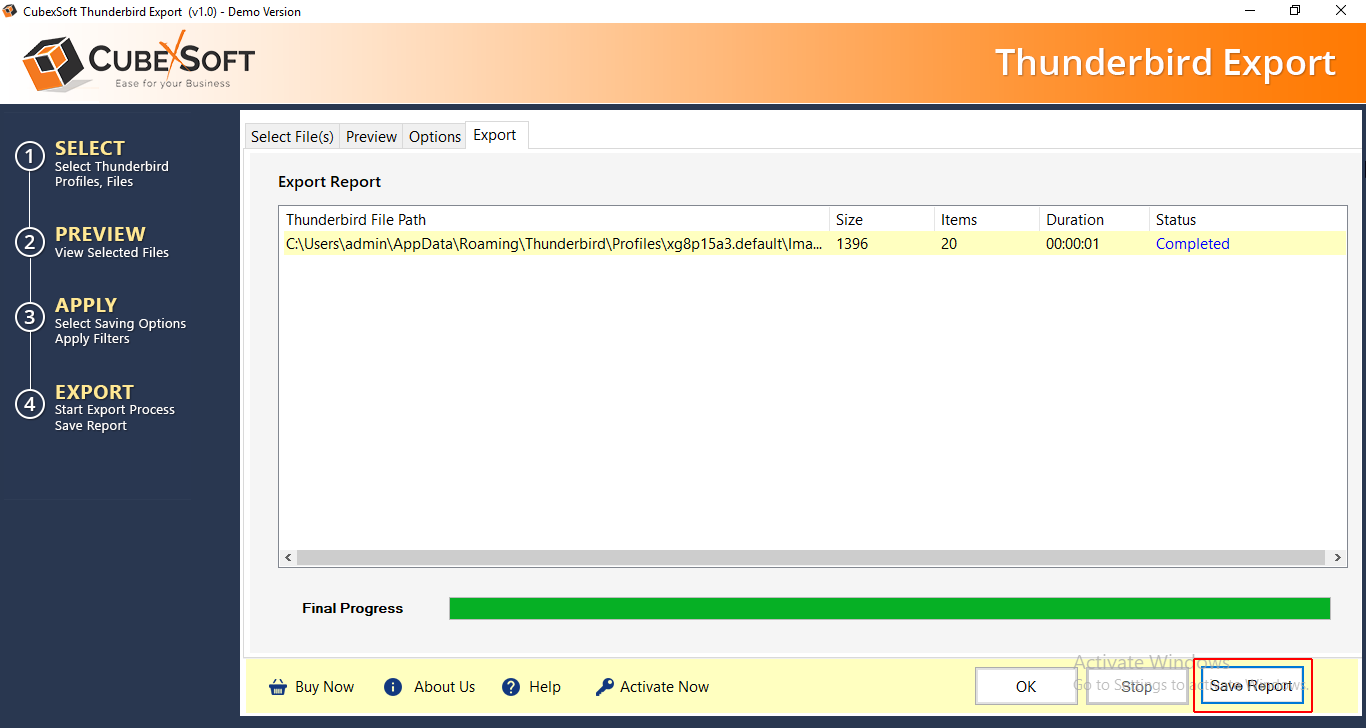 Major Attributes of Thunderbird to Office 365 Converter
The Software support multiple transfer of Thunderbird emails to Office 365 in one time processing.
Offer date filter to facilitate user to move Thunderbird emails of certain time period.
Preserve all the properties and Meta formatting of Thunderbird emails.
It is capable of transferring all type of attachments with respective emails accurately.
Thunderbird  Converter perform the conversion with 100% accuracy and integrity.
It is not mandatory to configure Thunderbird in your system to perform Thunderbird migration to Office 365.
Supports all Windows version such as 10, 8, 7, 8.1, vista etc.
Maintains Folder hierarchy and layout of the software.
Provide Log report in the end of the conversion which contain detail information of backup.
Download Thunderbird Converter Free Demo
Thunderbird to Office 365 Converter demo edition is available for understanding purpose. You can easily download the demo version to know how to move how to move Thunderbird profile to office 365 accurately. The software provides complete preview of the working and facilitate user to move first 20 Thunderbird items/folders to Office 365 for free of Cost.